Guided Tour & Dawah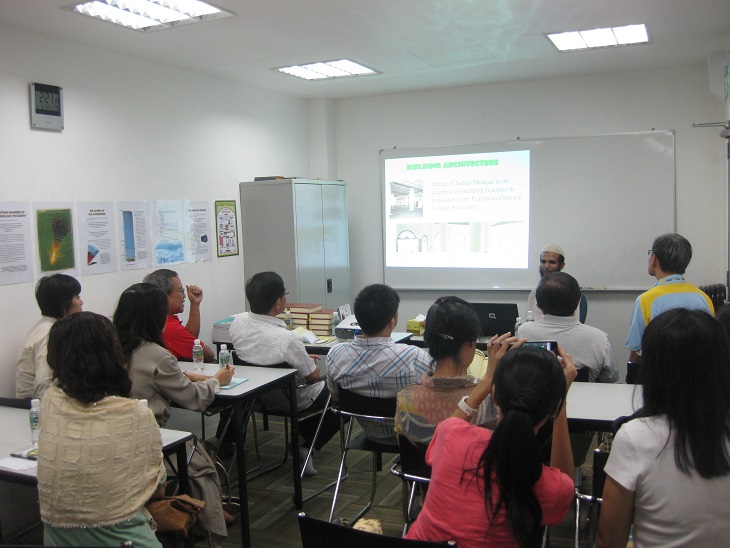 Masjid Jamae (Chulia) is located in the heart of Chinatown and hundreds of tourist visits our Masjid every day. The Masjid had appointed a dedicated Dawah Officer to specially entertain non-Muslim visitors to the Masjid.
Our dedicated Dawah Officer will guide through the tourist and the public everyday. He shows them the areas of Masjid and explains the purpose of Masjid and activities in the Masjid with notes and literatures. This includes Dawah which means Preaching of Islam.
Currently, our Masjid excels as an "educational" mosque. In addition to facilitating religious activities, prayers and sermons, it organizes seminars and discussions on religious/social thoughts and beliefs for both muslims and non-muslims.
The Masjid entrance, foyer and the ancillary hall has been given a new look to cater to the learning needs of these visitors. The Islamic Information Gallery was launched in Mar 2006. The Islamic Information Gallery consists of:
Posters on Islam
Posters on pertinent inter faith issues
Take away Brochures on Islam and Mosque History
Posters on Mosque History
Book Gallery - books on Islam to non-muslims
The public/tourist are requested to follow the ethics while entering the Masjid. The public should wear appropriate attire (robe) which covers the aurat (parts of body) while entering the Masjid. Skirts, short pants are not allowed. The robe is placed at the entrance of the Masjid. Please contact our staff for assistance.
Please take note that we are closed for visiting until further notice. Thank you